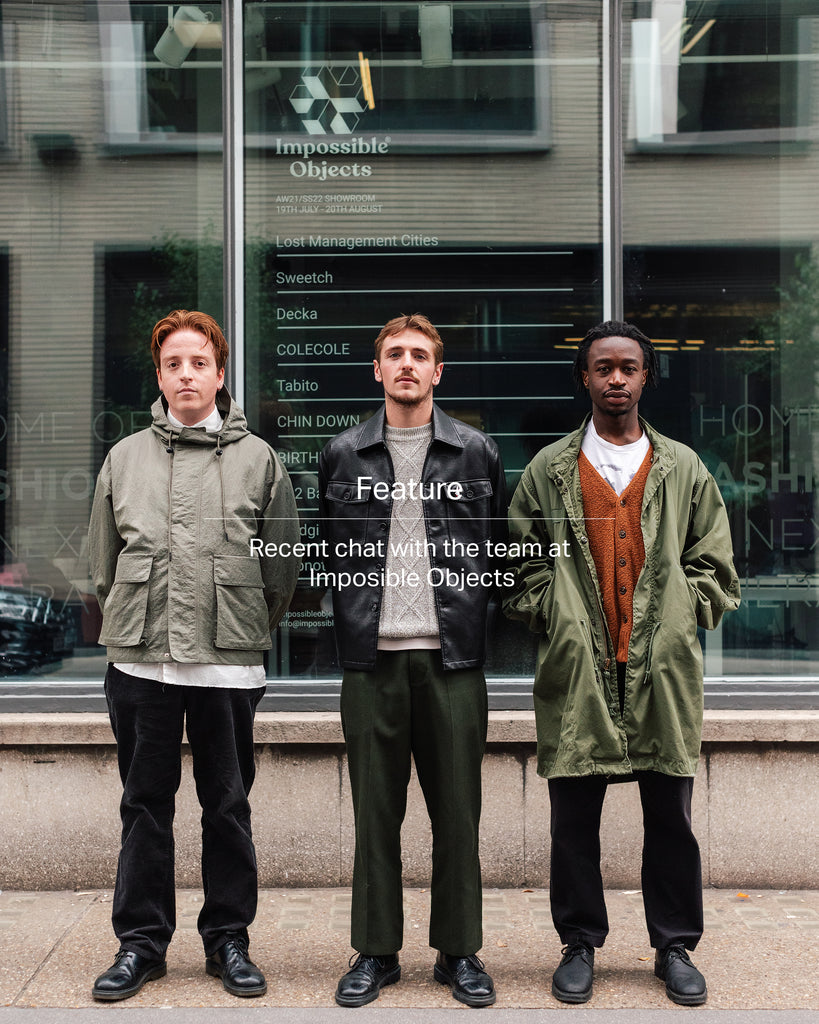 As part of our first featured series, we chatted with our friends at Impossible Objects. A Digital Wholesale and Distribution studio housing an array of forward thinking, niche brands. Run by three directors Ezra, Josh and Rhys we caught up about all-things clothing and their impressive roster of brands and influences. 
How's it going, what's new?
[E] We are quickly approaching our 1 year anniversary at Impossible Objects which we are looking forward to celebrating in May! Other than that, not much new in the world of Impossible Objects, we're just after wrapping up our SS22/AW22 and starting to plan what we are going to do over our AW22/SS23 season in the summer.
[J] Just dusting off the cobwebs, after a long weekend celebrating the end of our SS22/AW22 sales period. It was a great season, we met some top people along the way (including you guys) and felt it was only right we celebrated in style, especially on the back of the last couple of years.
What inspired the three of you to start IO?
[R] The agency came together very organically. After passing conversations the three of us had on multiple occasions, during lockdown we decided to put our heads together and give it a go. All three of us have always worked with brands, either in a styling/communication or wholesale/distribution capacity. Our backgrounds come together to form the perfect dynamic where we can all lean on each other for support in all areas of the business.
[J] It's always been in the back of my mind, even before I embarked on a career in wholesale and distribution and after meeting both Ez and Rhys it just felt right. Tapping into their knowledge of the trade as well as feeding off their youthful exuberance I feel we are building something fresh and exciting which I feel the industry needed.
You've got rather an impressive and refined roster of brands; what do you base your selection on?
[J] We are super happy with the brands we have onboard at present, but we won't stop trying to find the next best thing! We will continue to push boundaries and appeal to buyers and stores far and wide. There's no real rhyme or reason as to how we go about scouting new brands, however if we all like something we will tend to go with it, and that process has worked pretty well so far.
What's the reason behind why you chose Asian-influenced brands?
[E] All three of us have always had a particular interest in East-Asian brands so this has naturally become one of Impossible Objects' niche, I suppose this also the same for you guys? We did not necessarily set out with the intention of making Asian-influenced brands the focus of the agency; this is just the way that things have panned out. At first it seemed like a daunting prospect working with all of these brands considering none of us can speak another language. However, with the support of friends out there we were provided with introductions to a lot of our brands which removed the fear of language barriers and cultural differences posing obstacles between us.
[J] What Ezra said...
We saw you put on an event recently at The Glove That Fits. How did that go? Have you got any similar plans with IO in the future?
[R] We really enjoyed hosting the event, it was a great opportunity for us to show our appreciation to everyone who has supported us over our first year and also gave us the opportunity to offload after a hectic few months! 
[E] On the back of the event we are already in talks with venues and spaces discussing events we can throw in the near future. We also plan to throw a party to celebrate the one year anniversary of the agency in May so look out for that!
[J] It was nice to dance with our friends and families and we are so thankful to those guys as well as the outstanding DJs for providing the ingredients to a top night. When we first started out we didn't want just to be a boring old sales agency and as time moves on we are particularly interested in combining art, fashion and music as these are things we all love so I'm sure we will continue to host and curate fun events for you all to attend in the future.
What's your favourite Japanese/East Asian brands at the moment?
[E] Without being biased and mentioning any brands that we are directly associated with or are looking to work with, there are many brands out there which are doing exciting things such as Graphpaper, VIBTEX and Fresh Service to name a few. Then of course, all of the Beams, Nepenthes and BENEDEF brands.
[J] I don't really have any favourite brands as such as I am a firm believer in that if it looks and feels good in your own mind then go with it. Post Archive Faction is a brand that I have followed for a while though and their brand new collection is pretty fire so check those guys out!
Thanks for having the time to chat with us! Lastly, if you were stranded on a desert island what would you take with you? 
[J] I play guitar and have a lovely mini Martin acoustic which I'm sure would come in handy
[E] A decent singer
[R] I can work my way round the pots and pans so I guess we could start a band?